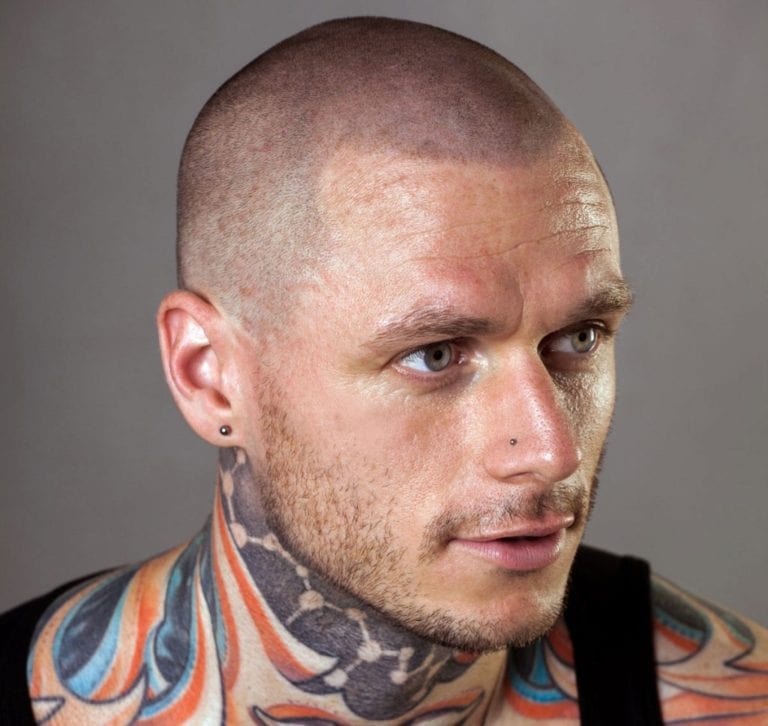 Hair today, gone tomorrow? With the fastest growing hair loss treatment also known as scalp micropigmentation, you can now change your status of "bald" to "buzzcut" in no time! Read further to learn all you need to know about this highly innovative treatment that everyone is buzzing about.
Scalp Micropigmentation – A Thorough Understanding 
A lot of men suffer from hair loss that not only affects their appearance but their level of confidence as well. They look older than their actual age and become more shy & hesitant around others.
Although there are many hair loss treatments available out there, such as medications, scarring surgeries and a lot more, no treatment is as cost-effective and promising as their revolutionary treatment known as scalp micropigmentation.
Scalp micropigmentation, also know as a scalp tattoo or hair tattoo, is a camouflaging hair loss treatment that only uses microneedles, pigments, and machines to do the magic!
With the help of microneedles, pigments are deposited into the scalp that gives the appearance of hair follicles.  It looks as if you have a full head of hair and just shaved it to enjoy a buzzcut hairstyle.  This is a great method of hiding male pattern baldness, hair loss scars and every other imperfection.
It takes around 2 to 4 sessions to get the whole treatment done.  There is no scarring, no downtime, no pain, but only the natural-looking end results!  What more could you wish for? Scalp micropigmentation is gaining more and more recognition today due to its high effectiveness and a lot of other great benefits as mentioned below.
Top 7 Benefits of Scalp Micropigmentation:
1. Fill in Thinning Hair:
Hair thinning happens due to diverse reasons and results in the undesirable appearance of scalp showing under the thin hair. Due to hair thinning or hair loss, hair density drops at a particular area of the scalp creating an uneven coverage of hair.
With this hair tattoo treatment, the lost of density can be replaced using a camouflaging technique, resulting in the appearance of a fuller, thicker head of hair. Receding hairlines can also be improved by making pigments blend naturally with the thinning hair. Scalp pigmentation can successfully achieve a three-dimensional effect, making results impossible to be distinguished from your natural hair.
2. Cover Male Pattern Baldness:
Many men, sometime in their lives, face male pattern baldness that makes them feel embarrassed or ashamed. They try to hide it with wigs, hats, and sometimes go for hair transplants treatment that can be a rather expensive plus a painful treatment with no promising end results.
Utilizing scalp tattoo treatments, you'll receive instantaneous reversed effects for male pattern baldness.  Scalp micropigmentation is the only solution that gives promising instant end results. This procedure is a non-invasive and cost-effective treatment for male pattern baldness that will tattoo little dots on the scalp, mimicking the look of stubble. You won't need to look for your hat to cover your balding scalp anymore.
3. Scar Camouflage:
People who go through hair transplant surgeries typically end up getting plug holes and strip scars on their scalp. Even after getting a very costly treatment (hair transplant), they still feel insecure and doubtful. However, scalp micropigmentation or hair tattoo treatment can save them from feeling distressed.  It is a great option for covering even injury scars, as it camouflages scars and gives the natural appearance of a fuller head of hair.  Instead of picking a hair transplant treatment that costs a lot and is not as effective as scalp micropigmentation, try choosing a scalp tattoo to feel good about yourself again.
4. Enhance Results of Hair Transplants Procedure:
After waiting for months to see your hair transplant results, it can really break your heart if you don't see the density of hair that you dreamed to have. In such situations, doctors recommend you go for the scalp micropigmentation as a combination treatment to improve the overall results and get the density of coverage that you desire.
This advanced treatment of cosmetic pigmentation will inject the pigments in the less-denser areas, thereby covering areas that the hair transplants could not. A scalp tattoo will generate real results by making hair look thicker and better.
5. Realistic Results at Cheaper Rates:
The purpose of undergoing a scalp tattooing procedure is to give men the hair they crave.  A keen observation is by the SMP technician to select the correct color of pigment that matches perfectly with your real hair and skin tone.  This step make them blend easily and look very realistic.  The cost of this treatment depends on how much scalp area needs coverage and also varies from one clinic to another.  However, cost is very minimal compared to other treatments that are not even as effective as it is.  
6. Fast Procedure with Fast Healing:
This genius procedure is gaining fame for another reason besides it effectiveness.  Scalp tattooing is fast and can be completed in 2-4 sessions with a gap of 1 week in between each session.  Every session takes a few hours to be done.  It offers sure-results that you can begin to see after having just one session.   As it is a non-invasive treatment, it offers fast healing with no downtime.   Many people, after having this treatment, go back to work even the very next day.  Typically, a rest of two days is recommended to let the redness go away.  Other than this, you don't have to worry about changing a dressing or caring for any stitches.
7. Restore Your Younger Look:
Balding men not only lose hair but they also lose their self-confidence.  They tend to look older then their age which makes them feel older as well.  Scalp micropigmentation is the ideal treatment to restore that lost confidence and revive a younger look.  With it, you can achieve the shaved-head look that even most of the famous celebrities are enjoying these days.
Concluding remarks:
No matter your type of hair loss (low hair density, baldness, scars etc.) this advanced confidence-boosting treatment offers guaranteed results with no pain or scars at all.  Restore your lost self-esteem with an scalp micropigmentation treatment.  Get ready to look as young as you feel again.